Company Profile
Kel-Berg Trailers & Trucks Ltd has been a name present in the UK market since back in the mid eighties. Firstly based down in Harwich, so as to effectively feed the export market into main land Europe. As the market changed Kel-Berg relocated to its purpose built offices and workshop in its current central location in Oxfordshire, with access to three international airports, direct rail and road networks making it easy for our customers to reach us.
The team at Kel-Berg has been in place for many years and have experience in a cross section of transport sectors. During the years Kel-Berg has kept ahead with the changes in UK and European markets and adapted to continually stock and offer the products and service which our clients ask for.
2015 & 2016 saw Kel-Berg investing and improving its facilities in the form of a drive through DVSA authorised testing lane and an IVA lane, enabling us to offer a complete on site solution. We have also extended our five bay workshop to eight bays which will enable us to offer our new body supply and fitting facility.
So far in 2017 the investment continues with another 5 bays and more Whole Vehicle Type Approvals as well as research and development going on behind the scenes.
We are pleased to annouce that we have been added to IVECO'S Approved Bodybuilder list for their drive away scheme.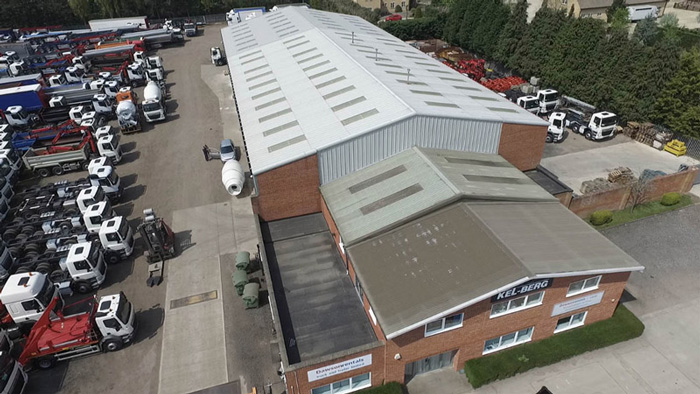 KEL-BERG TRAILER PRODUCTION
Kel-Berg with it's European manufacturing base, offers a comprehensive range of trailers targeting Scandinavia, the Baltic States and the UK. The production and design of each product is tailored to the individual market, not a one size fits all.
A good example of this philosophy is the legendary lightweight steel chassis, fitted with the single skin pressed T100 aluminium aggregate semi round tipping body, which is many operators first choice of trailer up and down country.
BODYBUILDING
Due to the increased demand for rigid tippers and grabs over the last few years, the introduction of Whole Vehicle Type Approval (WVTA) has reduced supply and increased lead times, which many customers are experiencing from several of the UK leading body builders. These lead times were also impacting on the speed of which we could have vehicles ready and available for clients. Kel-Berg decided that the most effective way to reduce these delays was to develop and manufacture its own bodies. Over the last year we have put a number of bodies into the market to ascertain product acceptance and durability, both have passed with flying colours. To enable us to offer the quality and quantity we need we have made a significate investment in the form of shot blast and paint booth, Panasonic automated welding system and laser cutter. (For further information on these products please follow link.)
NEW VEHICLE STOCKISTS
All the new vehicles which we have available, are sourced through UK franchised dealers and come with full UK type approval and COC's. Each vehicle goes into service after receiving a full PDI, plus an inspection of the ancillary equipment is conducted to ensure that the vehicle is ready to start work when it reaches its final destination. The new vehicles we offer all come fitted with the latest safety items to meet current legislation. We also offer to our customers the following services. Full livery service in any colour, signwriting & graphics, electrical services for any internal or external additional items required.
USED VEHICLE SALES
The used vehicles which we have available are made up of a mixture of ex contract, part exchanges and ones purchased to resell. Firstly all the vehicles are put through our workshop to be assessed on their condition. Once this has happened a decision can be taken on how the vehicle will be sold. Each vehicle receives a full internal and external valet service, brake test and safety inspection. Most items will come with a 12 months MOT if the current one is shorter than 2 months. Purchasing a used vehicle through us is a straight forward experience, we are easy to deal with as we are honest, reliable and down to earth.