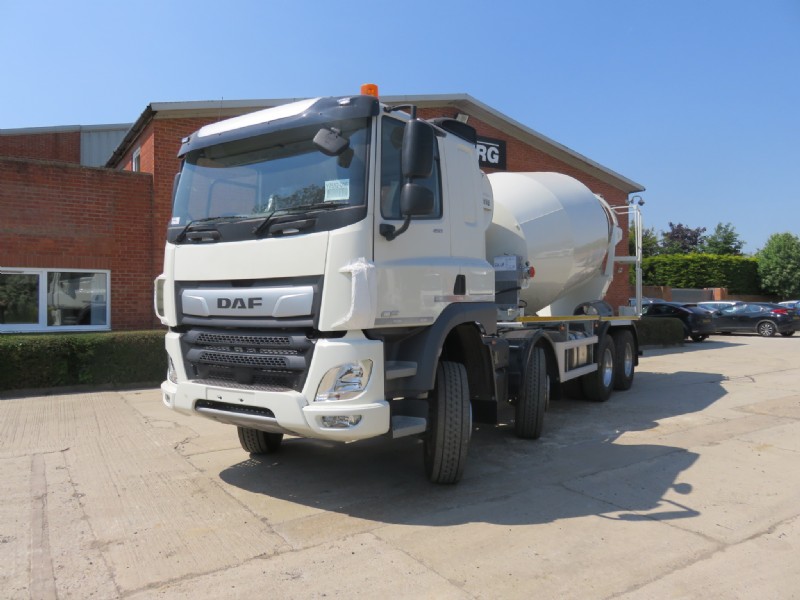 New DAF CF450 FAD 8x4 Rigid Construction Mixer Chassis Standard
• 449bhp MX11 engine
• 390 Litre steel fuel tank
•12 speed TraXon Automatic Gearbox
• 3 years warranty
• 2 years complete
• 3rd year driveline
New
In Stock
New & Unregistered
Available in your livery
Various finance packages options
Service & R&M packages available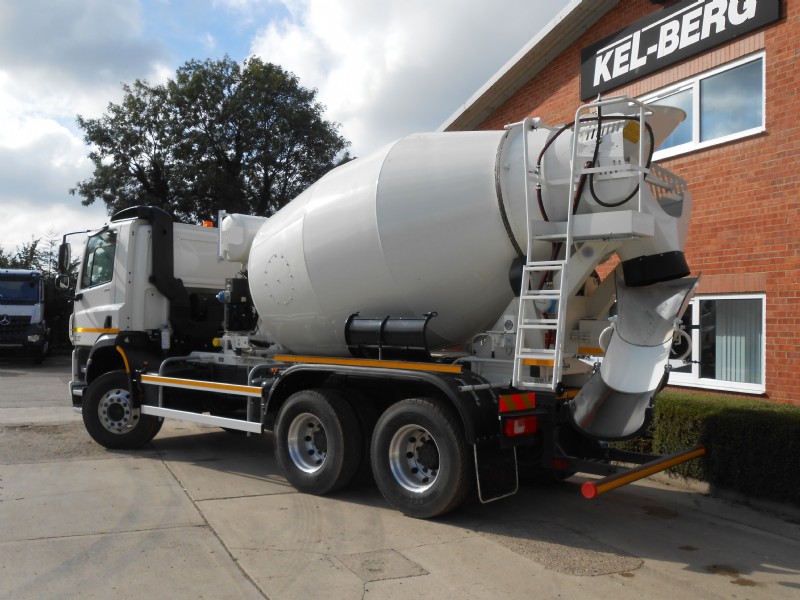 New DAF CF 370 FAT 6x4 Rigid Construction Mixer Chassis
DAF CF370 FAT 6x4 Rigid Construction Mixer Chassis.
MX-11, 6 cylinder diesel engine, 10.8litres output 369hp, basic engine immobiliser system.
Manual 8 speed, manual overdrive gearbox type 8S 1800, 8 speed. Rear axle ratio 4.10, ASR anti slip control.
DPF and SCR split unit, located at the right-hand side of the chassis. DPF and SCR behind the first front axle, 340 alloy fuel tank, no spray suppression fitted. Chassis paint finished in Grey, AdBlue tank 50 litres at the right-hand side of the chassis.
MIXER DETAILS.
Kel-Berg 7/101 cubic meter mixer equipment fitted to full length sub frame which is held in place by U bolts. The drum is constructed from DOMEX 700 MC 3 mm steel which is highly resistance to wear with high tensile strength.
All the blades have a 5 mm anti wear protective reinforcement capping fitted. Wide pitched blades help for faster mixing which suite the UK market. The drum has two inspection hatches. The drum is shot blasted anti rust primer and a polyurethane layer and painted white to match vehicle cab.
The drum is equipped with a wide platform and access ladder with anti- slip runs and guard rails. 400 litre aluminium water tank with filler holes both side and 500 l water meter.
The mixer is controlled via cable controls located at the rear and in the cab. Engine revs controlled by push buttons located at the rear next to the hydraulic oil pressure gauge (AKA Slump meter)
The mixer comes with the following chutes, Charge hopper single steel piece high flow with wear plate, High capacity discharge hopper with wear liner, 3 mm pan chute with anti- trap device fitted along with wear liner, Steel fold over section along with 2 spare fibreglass chutes.
The gearbox is ZF which drives the water pump via a sheer coupling and the Eaton hydraulic pump
ASA hydraulic oil cooler fitted n/s on front of mixer frame.
The mixer installation is finished in white top coat.
New
In Stock
New & Unregistered
Available in your livery
Various finance packages options
Service & R&M packages available