Company Profile
Founded by Jens Larsen, Group Managing Director, Kel-Berg Trailers & Trucks was established in the mid-1980's.
Originally based in Harwich, Essex the company primarily served the export market into Scandinavia and Germany by supplying tractor units to the road transport industry.
As the market grew and evolved, Kel-Berg relocated to its purpose-built offices and workshop in Weston On the Green, Oxfordshire with access to several international airports, direct rail links and main road networks making it easy for our customers to reach us.
The relocation to Oxfordshire enabled the company to begin designing and manufacturing its own trailers & bodybuilds to suit the UK market, building on the success of the trailer range already being supplied to the Scandinavian markets. New staff were brought on board to help with this expansion including Ronnie Verner to manage the UK Production and Workshop and Simon Hall to run Sales - both bringing a wealth of knowledge of the Manufacturing and Sales side of the Commercial Vehicle industry. Both Ronnie & Simon are still with the business today having been appointed Directors and with an experienced team working alongside them.
By the late 1990's the business had expanded and was supplying Kel-Berg curtainsider trailers and imported LHD & RHD tractor units to the UK general haulage industry.
In the early 2000's, the firm began serving the construction industry with an extended range of equipment including tipping trailers, concrete mixers, grab loaders, skip loaders and sweepers.
Since then it has survived the financial downturn, kept up consistently with changes in both the UK and European markets and continually adapted its range of products and services in line with market demand.
Investment in the business has been continual and in recent years facilities have been boosted by both a drive-through DVSA authorised testing lane and an IVA lane therefore offering a complete on-site vehicle testing solution.
2016 saw further site expansion with the number of workshop bays extended from five to eight alongside the purchase of a robotic welder, laser cutter and brake press. The latter has allowed us to streamline our in-house body production, enable quicker turnarounds for customers and keep up with the market demand.
This recent investment has proved highly successful enabling us to also offer a complete rigid body supply "One Stop Shop" for our customers and increasing the number of units delivered year on year.
2019 saw further site expansion with the number of workshop bays doubling from eight to sixteen, enhancing Kel-Berg's market position as one of the UK's leading trailer and truck suppliers.
Recently it was decided to also increase our presence in Ireland with a permanent member of the team, John Byrne, based in Co Wexford. Fully backed with our resources in Oxfordshire, John serves customers in both Southern and Northern Ireland.
Kel-Berg has an enterprising, close-knit and friendly team and the business philosophy from the last 30 years remains unchanged; that is continual investment, having equipment in stock ready to go and a focus on a high level of service as a One Stop Shop and dry bulk tipping trailer manufacturer!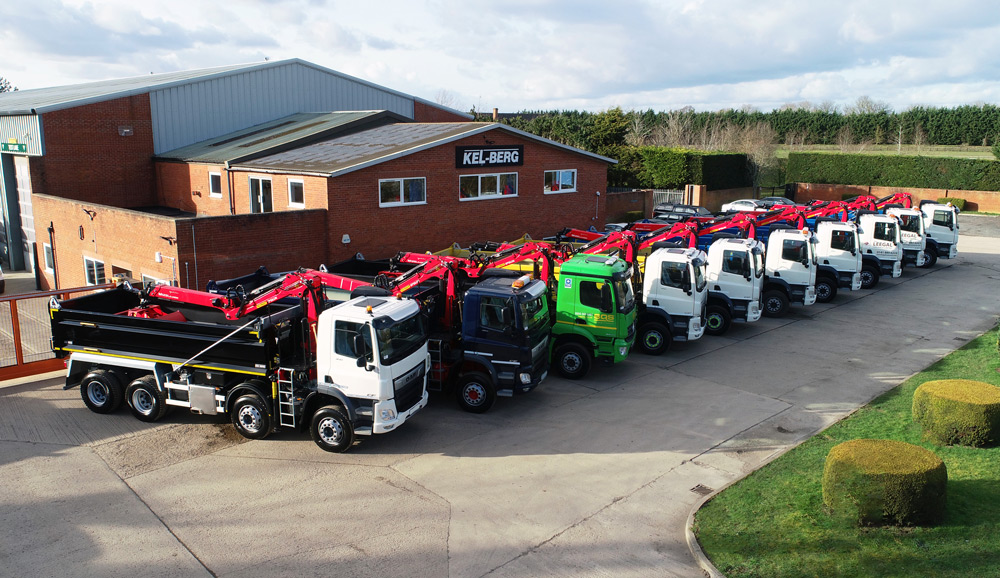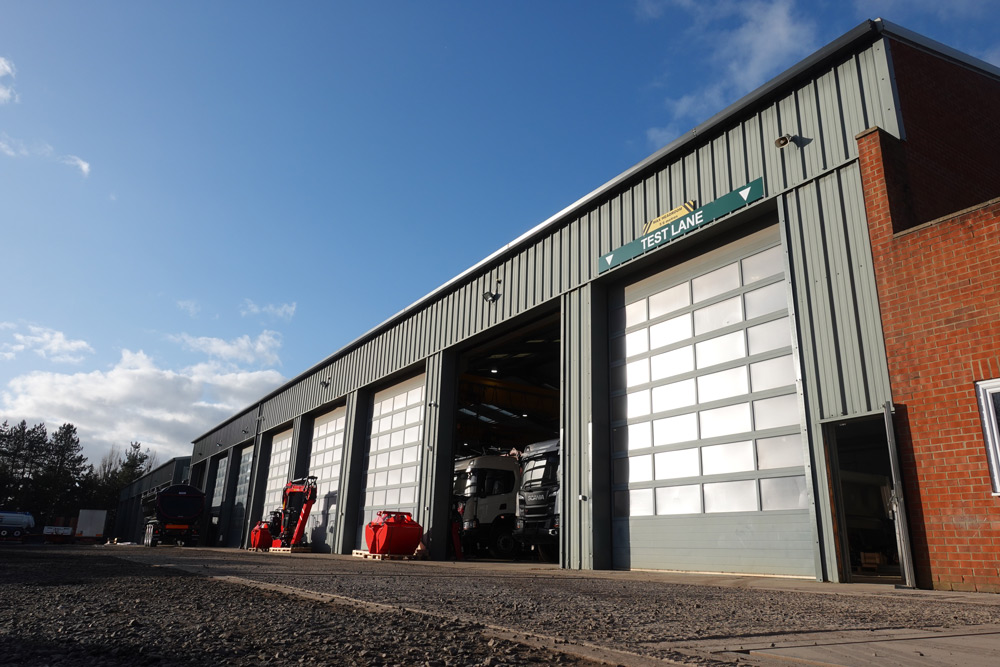 Kel-Berg Trailers & Trucks
Headed up by Ronnie Verner, the business specialises in supplying new tipping trailers, trucks and rigid bodybuilds including aluminium plank bulk trailer sides to customers across a range of sectors including:
Road Transport
Construction
Waste Management
Rental & Leasing
Quarrying
Our trailers and rigids are fully assembled at our purpose-built premises in Oxfordshire by our experienced workshop team. Components and parts come from Kel-Berg's in-house production and ancillary equipment is sourced from well-known market leading brands.
Each trailer and vehicle goes into service after receiving a full PDI. Plus an inspection of the ancillary equipment is conducted to ensure that the vehicle is ready to start work when it reaches its final destination.
All new vehicles are sourced through UK franchised dealers and come with full UK type approval and warranty.
Kel-Berg Used
Led by Simon Hall, the company specialises in the supply of used vehicles consisting of ex-contract hire, part exchanges and those that we specifically source for resale.
All vehicles are put through our workshop for a thorough assessment of their condition. Any remedial or repair work is then prioritised and undertaken along with any modifications or customisation as specified by the customer.
Each vehicle also receives a full brake test and safety inspection along with an external and internal valet service as part of pre-sales preparation.
All stock items come with long MOT's carried out using our own ATF lane.
Buying a used vehicle from Kel-Berg could not be easier. We serve a number of sectors within the industry and pride ourselves on being honest, reliable and down to earth with a broad range of equipment in stock ready to go!
Kel-Berg Ireland
Kel-Berg has been supplying trucks and trailers to customers in Ireland for a number of years and has steadily built up a solid customer base.
More recently we decided to increase our presence there with a permanent member of the team, John Byrne, based in Co Wexford.
With a wealth of sales experience in the Commercial Vehicle industry and fully backed with our resources in Oxfordshire, John serves customers in both Southern and Northern Ireland.
Kel-Berg Finance
At Kel-Berg Finance, we have over 20 years' experience, specialist industry knowledge and work with carefully selected partners. This important combination enables us to offer clients suitable finance plans at competitive low rates that meet their specific requirements - whether it's minimal deposits, 1 to 7 year contract terms or other options that match cashflow arrangements.
Finance is available for both new and used vehicles and our clients range from the self-employed owner operator to SME's and Corporate fleets.
So no matter how big or small your requirement is, we can offer the right package for you. Click here for further information
Kel-Berg Production
All of Kel-Berg's rigid and trailer products are produced at our European manufacturing base in Denmark.
We offer a comprehensive range of products for the UK and European markets and the design and production of each product is tailored to each individual market, not a one size fits all.
A good example of this approach is our lightweight steel chassis, fitted with the single skin pressed T100 aluminium aggregate semi round tipping body – widely regarded as a first choice of trailer by many operators up and down the UK.
To enable us to offer both quality and quantity, Kel-Berg has invested significantly in the latest technology including a Panasonic robotic welder and laser cutter solution. This gives the company a significant competitive edge with the capacity to produce up to 52 rigid bodies per week.
Some of our products' key features and benefits are as follows:
Built to last - All Kel-Berg rigid sub-frames are fully galvanised and bolt together. Bodies for both rigids and trailers are available in abrasion resistant Hardox 450
Short delivery timescales – We keep up to £5m of equipment in stock, allowing shorter build times meaning customers get a quick turnaround on delivery
Save money and help the environment - Our Alloy Tippers are light weight. This can help increase payloads by an average of 1 tonne per trailer which in turn reduces carbon emissions
Whole Vehicle Type Approval - We hold WVTA for Kel-Berg trailer ranges and all main chassis manufacturers so there is no delay on waiting for an IVA
Numerous extras available - including colour choices, sign writing, electrical installations and a full range of options and upgrades.
Click here for further information
Kel-Berg Parts
Kel-Berg established the Parts division as part of its One Stop Shop offering and more recently launched a dedicated Parts website to serve customers directly online.
We have an 8,000 sq ft warehouse stocking a wide range of parts for Kel-Berg, Baryval, WAP, Domar, Edbro, CBF and Takler amongst others. Most parts are available for next day delivery with online payment via our dedicated Parts website kelberg.com/parts/
On the Parts website, you can search quickly for a product either by Manufacturer or by Category and ordering online is easy and 100% secure. We accept all major credit/debit cards.
We also offer a 15% discount on all orders to customers who register an account with us and order online.